The Epiphany of the Lord 4/5th January 2020
By Fr David In Newsletter Blog On January 3, 2020
---
CATHOLIC PARISH OF CRANLEIGH AND BRAMLEY
The Epiphany of the Lord 4/5th January 2020
Parish Mission Statement:
Through our worship, in prayer and liturgy, we seek always to become a community of faith, hope and love, building inclusive relationships with people of faith and none, reaching out to those in need.
Please note the Parish Office will reopen at 8.45am on Tuesday 7th January 2020.
Christmas Offerings – a message from Fr David
I would like to take this opportunity to thank you all once again for your generosity to me at Christmas time with your personal gifts of wine, chocolates, hand made biscuits, mince pies, and of course the amazing and generous gifts of money which are all very much appreciated, and really do help enormously with our household budget.  I particularly appreciate that you often give out of what you could usefully have kept for yourselves to make your own budgeting a little easier.
Thank you everyone.  And for the two people who have offered to help out with the Projector Project.  That was a nice surprise.  May I wish you all a very blessed new year.
Times of Mass and Devotions
Sat 4th
Cranleigh
1pm
Baptism
Sienna Grace Guiraldes
The Epiphany of the Lord
Sat 4th
Cranleigh
6pm
Vigil Mass
Elizabeth and Bert Knowlden RIP
Sun 5th
Bramley

Cranleigh

9am

11am

Sunday Mass

Sunday Mass

Christians of the Holy Land

Vocations to the Priesthood

Tues 7th
Bramley
10am
Mass – after Epiphany
Wed 8th
Cranleigh
7pm
Mass – after Epiphany
Thurs 9th
Bramley
10am
Mass – after Epiphany
Fri 10th
Cranleigh
9.15am
School Mass – after Epiphany

2nd Sunday in Ordinary Time

Sat 11th
Cranleigh
6pm
Vigil Mass
Maureen Knowlden RIP
Sun 12th
Bramley

Cranleigh

9am

11am

Sunday Mass

Sunday Mass

Holy father's Intentions for January

People of the Parish

The Divine Office – 20 minutes before weekday Masses.
Adoration of the Blessed Sacrament – 1 hour before weekday masses
Confessions – Saturday after mass and 5pm, Wednesday at 6pm, Thursday at 10.30am or by appointment at any time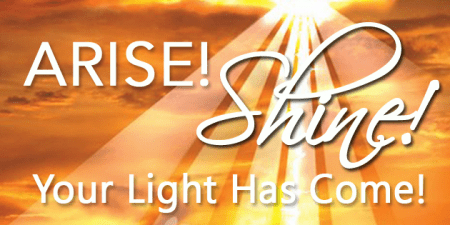 Dear brothers and sisters in Christ,
Arise, Shine, for your light has come!
So begins the first reading this week from the prophet Isaiah.  We cannot help but reflect(!) on the words of John's gospel for Christmas morning as we hear those words of Isaiah.
In the beginning was the Word:
and the Word was with God
and the Word was God.
He was with God in the beginning.
Through him all things came to be,
not one thing had its being but through him.
All that came to be had life in him
and that life was the light of men,
a light that shines in the dark,
a light that darkness could not overpower.
And that life was the light of men – that may strike us as a strange phrase, but it shouldn't really.  Light, and its metaphorical meanings of understanding (enlightenment), glory, beauty, clarity, openness and life-giving-ness is a constantly recurring theme.  It is the first "word" spoken by God in Genesis and is the pre-cursor to all the creativeness of God that followed that tremendous moment.
However, this initial moment of clarity and beauty was sullied by sin and the evil that dwells in our hearts. Humanity chose to hide in the dark from God with whom we had once 'walked together' in the garden of paradise.  Our estrangement from God cannot more clearly have been described other than by our darkness.  I do not mean that it was night – except in a metaphorical sense.  It was the night time of our distance from the pure sunlight of God's presence.
But now, God has sent us a great light to shine upon our faces once more as in the beginning.  Now our faces can be radiant with Christ's light and love.  Even if in our humanity it is still dark once Christ comes to dwell within us we become light 'in the Lord' as St Paul has written.
Now we become light in the world – beacons of hope radiating Christ's light into the darkness of other men and women's lives.  We certainly don't do this by pride in our virtue but by the radiance of Christ's love seen within us and realised in our actions of charity.
St Augustine writes:
"Always and everywhere, bear in mind that you must love God and your neighbour, love God with all your heart, and with all your soul, and with all your mind; and love your neighbour as you would love yourself.
We must always ponder these words, meditate them, hold them in our minds, practise them and bring them to fruition. As far as teaching is concerned, the love of God comes first; but as far as doing is concerned, the love of our neighbour comes first."
At the moment the world seems to be filled with darkness – uncertainties about the future, uncertainty in politics, division in the Church.  We must let Christ bring forth an epiphany within us so that through us His light may shine into the world bringing faith hope and love.
May God richly bless you all this year.
Fr David
300 Club Applications are Open
Over the years, the 300 club has been here to help raise funds for the church.  Over the past 10 years, over £11,000 has been raised.  The draws start in January with a New Year draw and end in December with a Christmas draw, with 12 monthly draws during the year.
Entry forms are available at the back of each church in the parish and should be returned no later than 19 January 2020 to be included in all the draws for the year.  Return entries by putting them in an envelope in the collection at a Sunday mass or direct to the parish office in Cranleigh.
In the current year, there are 104 entries, each one costing £12.  After taking away the prize money this had left £468 as a contribution to the church's funds. In 2019, we used these funds to buy a new set of vestments for Fr David.  Let's see if we can make 2020 a bumper year and raise over £1000 for the church.  Good luck!
From Giovanni Fontebasso : please see a request for accommodation in the area.  I am a mature student at Surrey University (Psychology). I have 20 years' experience in mental health having worked as an educator-health care assistant with elderly people suffering from different conditions i.e., Alzheimer, dementia. I am from Italy and been here for almost 3 years. Due to my intensive course I cannot have a full-time job and therefore I am looking to do assistance during the night and I'll be very happy to find a family that needs this kind of help.  Please phone 07513661411or 274744
Justice & Peace Assembly:   'Still No Room at the Inn?" How can we respond to the homelessness crisis today?  Sat. 25th January, at the St Philip Howard Centre, Crawley (DABCEC).  Doors open 9.30 am.  Free event.  Introduced by Bishop Richard, with Speakers from Turning Tides, Homelink, Crawley Open House, Life Housing, Caritas Portsmouth, and more.  Stalls and stands.
Drinks provided – bring own cup/mug.  Limited parking. Bookings at Rosie.Read@abdiocese.org.uk
Evening Prayer for Divorced, Remarried & Separated: Sun. 23rd February, at 3 pm:  All those in our parish communities who may be divorced, remarried or simply separated, are warmly invited to come together with Bishop Richard at St. John the Evangelist Church in Horsham for afternoon tea, conversation and the celebration of Evening Prayer, which will conclude the afternoon.  It would be useful to know approximate numbers simply to allow us to cater appropriately. If you be kind enough to send through the name(s) of those who are coming along, that would be useful. You can send the information to Katherine.Bergin@abdiocese.org.uk  Thank you.
Worth Abbey:  Silent Retreat:  13th-16th January 2020 (Mon-Thurs)  £265 per person (Concession/unwaged £225)
Take some time out post-Christmas and join, for a short while, the rhythm of prayer and reflection with the monastic community at Worth Abbey.  Enjoy time and space to be still, refresh your spirit and explore your relationship with God in beautiful and peaceful surroundings.
For further information, to request a booking form or to reserve your place, please contact us:
Tel: 01342 710318 or Email: toc@worth.org.uk     2020 Calendar of Retreats at www.worth.co.uk/wp-content/uploads/Retreat-Programme-2020-leaflet.pdf
---
A Week of Guided Prayer – who's it for?  Everyone!
And someone who's been there said, "I think I expected something more 'holy'!  As it was, I was able to be me and think and pray about life as I'm experiencing it now……."
Want to hear more?
The week starts on Sunday, 9th February 2020, in the afternoon, at St Joan of Arc, Farnham, GU9 8DJ.   Further details are in the booking forms at the back of the church, or drop an email to stylesarah412@gmail.com
Closing date for applications will be on 6th January 2020, but no one will be turned away, including those who are housebound
Please tell us if this applies to you or someone you know.
---
Fr John Seddon OSB will present the fifth episode of 'Catholicism – a journey to the heart of the faith', by Bishop Robert Barron, on Saturday, January 11th, 2020.  The day begins with Mass at 9.00 am, followed by coffee. The fifth film, is entitled 'The Indispensable Men: Peter, Paul and the Missionary Adventure.' The Day concludes around 4.00 pm. Bring a packed lunch and if you can, a friend. Tea and coffee is provided. St Augustine's Abbey, Sample Oak Lane, Chilworth, Near Guildford. GU4 8QR.
---
Opportunity – Regional Community Fundraiser
An exciting opportunity has arisen for outstanding community fundraisers to work with diocesan volunteer teams to raise funds to enable Missio to achieve its mission. This is an opportunity which would suit someone wanting to use their proven fundraising skills to support the Church's mission overseas by building effective relationships with Diocesan Directors, Parish Coordinators (Local Secretaries), Volunteers, Supporters, Schools, Religious and Parish Priests to help grow an understanding of the theology and impact of mission in the world.
Missio ignites God's love by helping missionaries to work alongside communities throughout the world that are poor or in need, regardless of their background or belief. Today Missio makes an impact in 1,070 mission dioceses in 157 countries. We transform lives by listening to local needs and acting in the most effective way: we create infrastructure in impoverished and remote areas; we help to build chapels, schools and orphanages; we facilitate clinics and dispensaries; and we create hubs from which the young Church can flourish and grow. Missio also supports the training of over 25,000 future Priests and 11,000 religious Sisters every year by providing young churches in developing countries with funding to train their own future Church leaders. We are proud to be the Pope's charity for world mission.
Principle responsibilities will include:
To build effective relationships with Diocesan Directors, Parish Coordinators (Local Secretaries), Volunteers, Supporters, Schools, Religious and Parish Priests across allocated dioceses;
To be responsible for coordinating the network of Missio and Mill Hill volunteers in allocated dioceses;
To communicate effectively with Local Secretaries to ensure they feel connected to Missio's work and valued for their contribution;
To develop effective diocesan and parish-fundraising by supporting Local Secretaries, parish teams and schools
The roles form part of a small, supportive and committed team and location is flexible but will require regular attendance at our London office, which is a short walk from Victoria Station. One of the roles will be based in northern England and one in southern England. The role will require flexibility to travel extensively within England and Wales and could involve occasional overseas travel.
Salary: Competitive
Closing date for applications: 10 January 2020
For a job description and for further information please contact:
recruitment@missio.org.uk or visit www.missio.org.uk
Applicants should forward a full CV and covering statement to:
recruitment@missio.org.uk 23Eccleston Square, London SW1V 1NU
---
At the end of Holy Mass celebrated in the Vatican Basilica, on the Solemnity of Mary Most Holy, Mother of God, and on the 53rd World Day of Peace, Pope Francis appeared at the window of his study in the Apostolic Vatican Palace to recite the Angelus with the faithful and pilgrims gathered in St. Peter's Square.
Here is a ZENIT translation of the Holy Father's address.
Before the Angelus:
Dear Brothers and Sisters, good morning and Happy New Year!
Yesterday evening we ended the year 2019 thanking God for the gift of time and for all His benefits. Today we begin 2020 with the same attitude of gratitude and praise. It's not a given that our planet began a new rotation of the sun and that we human beings continue to inhabit it. It's not a given, rather, it's always a "miracle" of which to be astonished and grateful.
On the first day of the year, the Liturgy celebrates the Holy Mother of God, Mary, the Virgin of Nazareth, who gave birth to Jesus, the Saviour. That Child is God's blessing for every man and woman, for the great human family and for the entire world. Jesus did not remove evil from the world but He defeated it at its root. His salvation isn't magical, but it is a "patient" salvation, that is, it entails the patience of love, which takes charge of iniquity and takes away its power. The patience of love: love makes us patient. We lose patience so often; I do too, and I apologize for yesterday's bad example (Pope Francis had slapped a woman's hand when she pulled his arm severely)  Therefore, contemplating the Nativity Scene we see, with the eyes of faith, the world renewed, freed from the dominion of evil and placed under Christ's royal lordship, the Babe lying in the manger.
Therefore, the Mother of God blesses us. And, how does Our Lady bless us? By showing us the Son. She takes Him in her arms and shows Him and thus She blesses us. She blesses the whole Church; She blesses the whole world. As the Angels sang at Bethlehem, Jesus is "joy for all the people: He is God's glory and peace for men (Cf. Luke 2:14). And this is the reason that the holy Pope Paul VI wished to dedicate the first day of the year to peace — it is the Day of Peace –, to prayer, to awareness and responsibility towards peace. For this year 2020, the Message <reads> thus: peace is a path of hope, a path in which one advances through dialogue, reconciliation, and ecological conversion. 
 Therefore, we fix our gaze on the Mother and on the Son that She shows us. At the beginning of the year, let us allow ourselves to be blessed! Let us allow ourselves to be blessed by Our Lady with her Son. Jesus is the blessing for all those that are oppressed by the yoke of slaveries, moral slaveries, and material slaveries. He liberates with love. To one who has lost self-esteem, remaining a prisoner of vicious circles, Jesus says: The Father loves you, He doesn't abandon you; He waits for your return with unwavering patience (Cf. Luke 15:20). To one who is victim of injustices and exploitation and doesn't see the way out, Jesus opens the door of fraternity, to find welcoming faces, hearts, and hands, where he can share the bitterness and despair, and recover somewhat his dignity. To one who is gravely ill and feels abandoned and discouraged, Jesus draws close, touches his wounds with tenderness, pours the oil of consolation and transforms weakness in the strength of goodness to loose the most tangled knots. To one who is in prison and tempted to close himself in himself, with a little glimmer of light, Jesus reopens a horizon of hope.
Dear brothers and sisters, let us come down from the pedestals of our pride — we all have the temptation of pride — and ask for the blessing of the Holy Mother of God, the humble Mother of God. She shows us Jesus: let us allow ourselves to be blessed, let us open our heart to her goodness. Thus the year that is beginning will be a path of hope and peace, not with words, but through daily gestures of dialogue, reconciliation, and care of creation.
Rota
Vigil Mass
9am Bramley
11am Cranleigh
Welcomers
J Paris
M Whalley

J Golding

R Inwood & family
1st Reading
R Sharpe
S Hyde
K Kay-Russell
2nd Reading
C Houston
P Duanne

C Whyllie

Thomas Hall
EMHC
J Glynn

L Collins

J Harding

I Watts

J O'Flinn

M Reed

B Reed

M Laker

V Milner

K Swindells

M Evans

C Sanders

C Greenwood
The Epiphany of the Lord
Entrance Antiphon      Cf. Mal 3: 1; 1 Chr 29: 12
Behold, the Lord, the Mighty One, has come;
and kingship is in his grasp, and power and dominion.
The Collect
O God, who on this day revealed your Only Begotten Son to the nations by the guidance of a star, grant in your mercy, that we, who know you already by faith, may be brought to behold the beauty of your sublime glory. Through our Lord Jesus Christ, your Son, who lives and reigns with you in the unity of the Holy Spirit, one God, for ever and ever. Amen
First reading                                         Isaiah 60:1-6
Above you the glory of the Lord appears
Arise, shine out, Jerusalem, for your light has come,
the glory of the Lord is rising on you,
though night still covers the earth
and darkness the peoples.
Above you the Lord now rises
and above you his glory appears.
The nations come to your light
and kings to your dawning brightness.
Lift up your eyes and look round:
all are assembling and coming towards you,
your sons from far away
and your daughters being tenderly carried.
At this sight you will grow radiant,
your heart throbbing and full;
since the riches of the sea will flow to you,
the wealth of the nations come to you;
camels in throngs will cover you,
and dromedaries of Midian and Ephah;
everyone in Sheba will come,
bringing gold and incense
and singing the praise of the Lord.
Responsorial Psalm     Psalm 71(72):1-2,7-8,10-13
R/. All nations shall fall prostrate before you, O Lord.
O God, give your judgement to the king,
to a king's son your justice,
that he may judge your people in justice
and your poor in right judgement.
In his days justice shall flourish
and peace till the moon fails.
He shall rule from sea to sea,
from the Great River to earth's bounds.
The kings of Tarshish and the sea coasts
shall pay him tribute.
The kings of Sheba and Seba
shall bring him gifts.
Before him all kings shall fall prostrate,
all nations shall serve him.
For he shall save the poor when they cry
and the needy who are helpless.
He will have pity on the weak
and save the lives of the poor.
Second reading                        Ephesians 3:2-3,5-6
It has now been revealed that pagans share the same inheritance
You have probably heard how I have been entrusted by God with the grace he meant for you, and that it was by a revelation that I was given the knowledge of the mystery. This mystery that has now been revealed through the Spirit to his holy apostles and prophets was unknown to any men in past generations; it means that pagans now share the same inheritance, that they are parts of the same body, and that the same promise has been made to them, in Jesus Christ, through the gospel.
Gospel Acclamation                                         Mt2:2
Alleluia, alleluia!  We saw his star as it rose
and have come to do the Lord homage. Alleluia!
Gospel                                                 Matthew 2:1-12
After Jesus had been born at Bethlehem in Judaea during the reign of King Herod, some wise men came to Jerusalem from the east. 'Where is the infant king of the Jews?' they asked. 'We saw his star as it rose and have come to do him homage.' When King Herod heard this he was perturbed, and so was the whole of Jerusalem. He called together all the chief priests and the scribes of the people, and enquired of them where the Christ was to be born. 'At Bethlehem in Judaea,' they told him 'for this is what the prophet wrote:
And you, Bethlehem, in the land of Judah,
you are by no means least among the leaders of Judah,
for out of you will come a leader
who will shepherd my people Israel.'
Then Herod summoned the wise men to see him privately. He asked them the exact date on which the star had appeared, and sent them on to Bethlehem. 'Go and find out all about the child,' he said 'and when you have found him, let me know, so that I too may go and do him homage.' Having listened to what the king had to say, they set out. And there in front of them was the star they had seen rising; it went forward, and halted over the place where the child was. The sight of the star filled them with delight, and going into the house they saw the child with his mother Mary, and falling to their knees they did him homage. Then, opening their treasures, they offered him gifts of gold and frankincense and myrrh. But they were warned in a dream not to go back to Herod, and returned to their own country by a different way.
Prayer Over The Offerings
Look with favour, Lord, we pray, on these gifts of your Church, in which are offered now not gold or frankincense or myrrh, but he who by them is proclaimed, sacrificed and received, Jesus Christ. Who lives and reigns for ever and ever.
 Amen
Communion Antiphon             Cf. Mt 2: 2
We have seen his star in the East,
and have come with gifts to adore the Lord.
Prayer After Communion
Go before us with heavenly light, O Lord, always and everywhere, that we may perceive with clear sight and revere with true affection the mystery in which you have willed us to participate. Through Christ our Lord.  Amen 
---